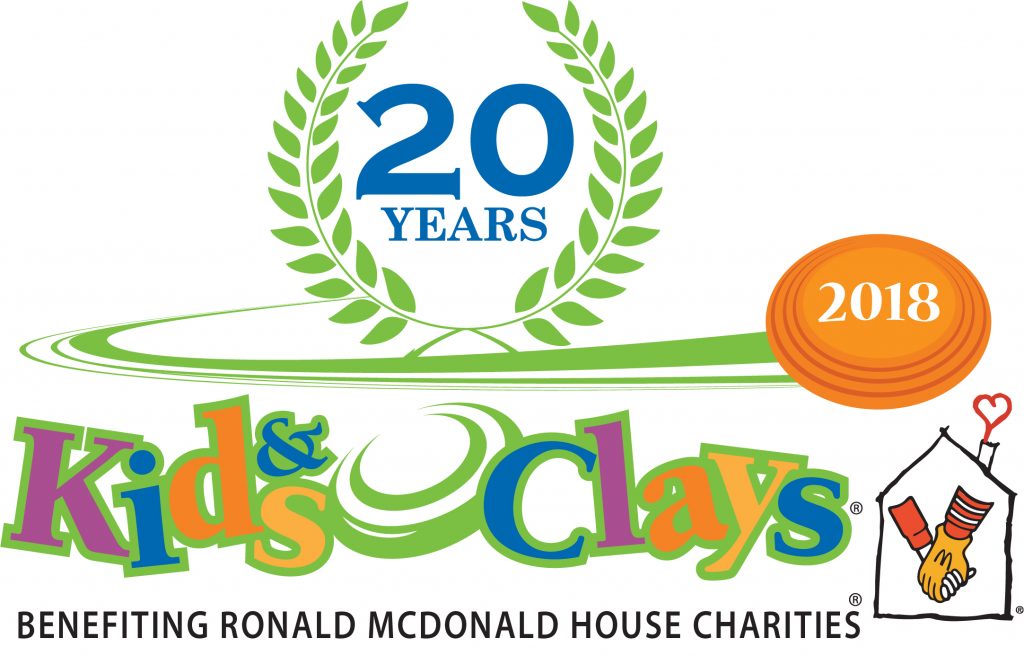 April 20, 2018
What started with a single sporting clay event to help critically ill children and their families has grown into a decades old national organization benefiting hundreds of thousands of families each year.
This year marks the 20th Anniversary of the Kids & Clays Foundation who supports a national series of sporting clay events with proceeds benefiting Ronald McDonald House Charities (RMHC).  Ronald McDonald Houses provide housing and other help to critically ill children and their families across the country.
Founded by McDonald Owner-Operators Glenn and Kathy Lubeznik from Michigan City, IN, the first sporting clay event was held at Deer Creek Hunt Club in Michigan. From that single event, which raised $15,800 for the RMHC of Chicagoland and NW Indiana, the Kids & Clays Foundation series of events has grown to 23 in 2018 and has raised to date $18 million dollars net to help children and their families.
The purity of the Kids & Clays mission helped make it the charity of choice of the National Skeet Shooting Association (NSSA) and the National Sporting Clays Association (NSCA) for the past two decades as well.
"We are very proud to work with and support the Kids & Clays Foundation for their 20 years of helping children and their families through shooting sports," said Michael Hampton Jr., Executive Director of the NSSA-NSCA.  "Our organization believes in giving back to communities and organizations across the country and we can't think of a better group to help than Kids & Clays."
As the NSSA-NSCA charity of choice, Kids & Clays has a large presence at numerous events at the National Shooting Complex including the NSSA Worlds and NSCA Nationals.  Kids & Clays is also given prime locations at marquee events around the country such as the U.S. Open and various large, regional sites. Those events will take on special meaning this year with 20th Anniversary engraved firearms and other collectibles being auctioned at each site.
Kids & Clays is also honored to be the charity of choice of the Amateur Trapshooting Association (ATA) and the Scholastic Clay Target Program (SCTP) allowing for a large presence at the ATA Grand American and the SCTP Nationals.
The 20th Anniversary Kids & Clays celebration will culminate in a dinner during the 2018 NSCA Nationals to thank the shooters, sponsors, and Ronald McDonald House Charities leaders from around the country for their decades of support. More information will be provided in an upcoming Target Talk.
To see the 2018 Schedule of Kids & Clays Foundation/RMHC shooting events and promotion sites, go to www.kidsandclays.com.
Kids & Clays also relies heavily on sponsors from the outdoor/shooting industry as well as from supplier to McDonald's Corporation to fulfill its mission.  To see all of the companies who invest time and merchandise for the cause, go to http://kidsandclays.com/sponsors.
One of the key sponsors is the owner of Baron Technology and president of the Kids & Clays Foundation.
"We are honored to be the charity of choice of the most prestigious shooting organizations in the country," said David Baron, president of the Kids & Clays Foundation.  "Their support is making a large difference in the lives of many critically ill children and their families and we all owe them a debt of gratitude."