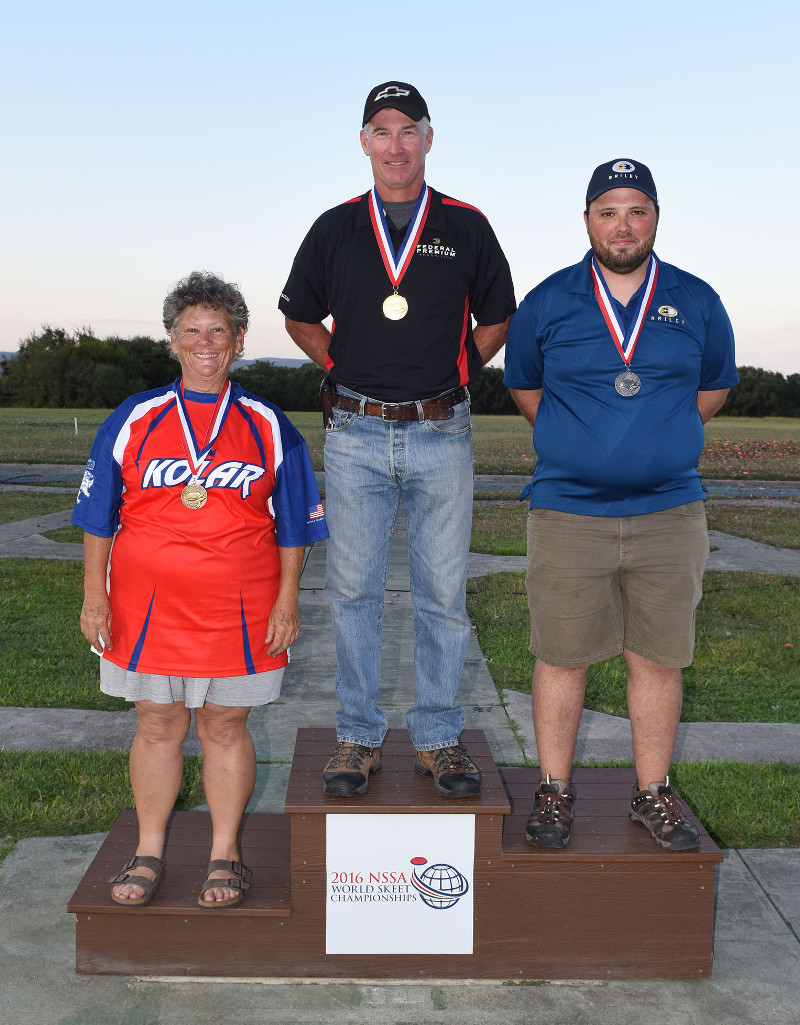 Stuart Brown's lone 449×450 won the HOA World Skeet Championship for him outright on October 8, capping almost two weeks of preliminary, Mini World, and World Championship events at the National Shooting Complex. More than 800 shooters competed in one or more of the events that offered something for every shooter in every class.
Last year's HOA World Champion, Michael Peterson, finished a target behind and claimed the runner-up spot after outlasting third-place Rebecca McCumber in the shoot-offs. McCumber was the Lady Champion, followed by Diana Riddle and Stanton Mallory.
Other new World Champions include Paul Giambrone III (12 gauge), Sam Armstrong (20), Bruce Christian (28), Andrew McNamara (.410), Riley Chaddock (Doubles), and Jay Bunting (HAA).
Giambrone was the big winner at the Mini World, taking HOA, 12-gauge, and 20-gauge titles. Garrett Hackmaster won 28 gauge, Michael Schmidt .410, and Dan Morris, Doubles. Giambrone was also the individual winner of the inaugural Wayne Mayes event, along with the 3-man team of James Gast, Ray Vaslavsky, and Carol Goodart.
.
Watch for coverage of the World Skeet Championships in the November issue of Clay Target Nation, with delivery around November 15.
World Championship winners include:
| | | |
| --- | --- | --- |
| HOA | Champion | Stuart Brown – 449 |
| | Runner-up | Michael Peterson – 448 |
| | 3rd Place | Rebecca McCumber – 448 |
| | Lady Champion | Rebecca McCumber – 448 |
| | Lady Runner-up | Diana Riddle – 444 |
| | Lady 3rd | Mallory Stanton – 438 |
| | AAA1 | Jay Bunting – 448 |
| | AA1 | Ryan Smithart – 446 |
| | A1 | Michael Lee – 445 |
| | B1 | Howard Derriman – 440 |
| | C1 | Steve Brogdon – 430 |
| | D1 | Kyle Clayburne – 421 |
| | E1 | Hiliary Henderson – 426 |
| | | |
| Doubles | Champion | Riley Chaddock – 100 |
| | Runner-up | Michael Peterson – 100 |
| | 3rd Place | Ryan Smithart – 100 |
| | Lady | Kaleigh Lawson – 97 |
| | Lady Runner-up | Mallory Stanton – 95 |
| | Lady 3rd | Katie Lackey – 95 |
| | | |
| | | |
| 12 Gauge | Champion | Paul Giambrone III – 150 |
| | Runner-up | Brandon Cade – 150 |
| | 3rd Place | Dan Morris – 150 |
| | Lady | Diana Riddle – 150 |
| | Lady Runner-up | Mallory Stanton – 150 |
| | Lady 3rd | Rebecca McCumber – 149 |
| | | |
| 20 Gauge | Champion | Sam Armstrong – 100 |
| | Runner-up | Christian Elliott – 100 |
| | 3rd Place | Todd Bender – 100 |
| | Lady | Susan Huszai – 99 |
| | Lady Runner-up | Kaleigh Lawson – 99 |
| | Lady 3rd | Vickie Stevens-McKinley – 99 |
| | | |
| 28 Gauge | Champion | Bruce Christian – 100 |
| | Runner-up | Ryan Smithart – 100 |
| | 3rd Place | Ken Ford – 100 |
| | Lady | Rebecca McCumber – 100 |
| | Lady Runner-up | Diana Riddle – 100 |
| | Lady 3rd | Patricia Hupp – 100 |
| | | |
| .410 Bore | Champion | Andrew McNamara – 100 |
| | Runner-up | Robert Ennes – 100 |
| | 3rd Place | Cody Sergeant – 100 |
| | Lady | Rebecca McCumber – 100 |
| | Lady Runner-up | Mackinzee Swetman – 99 |
| | Lady 3rd | Bettina Wohlforth – 99 |
| | | |
| HAA | Champion | Jay Bunting – 548 |
| | Runner-up | Michael Peterson – 548 |
| | 3rd Place | Stuart Brown – 547 |