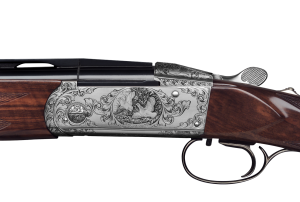 Krieghoff has once again generously donated a K-80 Sporting shotgun to be raffled by NSSA-NSCA. This year's K-80 will have Bavaria Royal engraving and a choice of 30″ or 32″ barrels. The gun is valued at $21,495.
The raffle benefits the NSCA USA Sporting Clays Team and the NSSA-NSCA All-American programs.
Tickets will cost $100 each, and only 430 tickets will be sold.
The drawing will be held during the National Sporting Clays Championship in October. The winner need not be present to win.
To purchase tickets, please call 210-688-3371 ext. 962 for skeet and ext. 961 for sporting clays.
* The Krieghoff shotgun winner must have a valid U.S. social security number, as NSSA-NSCA must collect tax and report the winning value to the IRS. We cannot ship firearms outside the U.S