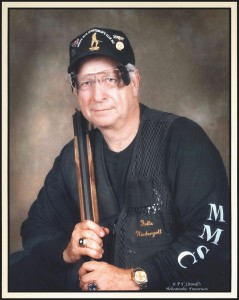 Massachusetts has lost yet another World Championship shooter. William "Fritz" Wiedergott left us early Sunday afternoon, February 5, 2017 while being surrounded by his family. For those of you that have been around the skeet world for more than just the past few years, you undoubtedly have either had the distinct pleasure of meeting him or hearing about his hundreds of high level accomplishments throughout the skeet world. Fritz is a long time member of Minuteman Sportsman club and there on the walls of the clubhouse are pictures of some of his achievements (including his world championship title). Although it goes without saying, as great of a shooter he was, it pales in comparison to the kind of person he was. For those of you that know him know that Fritz was a true gentlemen, a loving husband, a wonderful father, and last but certainly not least, a class act. He was an inspiration to many and a fierce competitor to others but all had the same opinion of him off the skeet field, an exceptional man. Fritz and Sylvia had not been coming around the club that much in the past couple of years but that did not make us miss his (and Sylvia's) smiling faces any less. Words cannot begin to describe how much Fritz will be missed personally as well as on the skeet field but I am pretty confident in saying that if I can touch half the lives he did I will feel pretty good about my time on earth.
In addition to his wife Sylvia, he is survived by his children, Anita-Marie Edwardsen and her husband, Ronald; Teresa Wiedergott-Wilson and her husband, Steve; William A. Wiedergott, 3rd; Karl Wiedergott; Heather Cartier and her husband, Roland; his grandchildren, Kristine Hart and her husband, Travis; Kelly Edwardsen, Ryan Wilson, Hannah Wilson and Chace Cartier.
All services will be private. In lieu of flowers, memorial contributions may be sent in his memory to a charity of your choosing.
The MSSA (with permission of his family) will be planning a very special event in the future to memorialize Fritz as we see fit. Details will be forthcoming at a later date.
Contributed by MSSA.