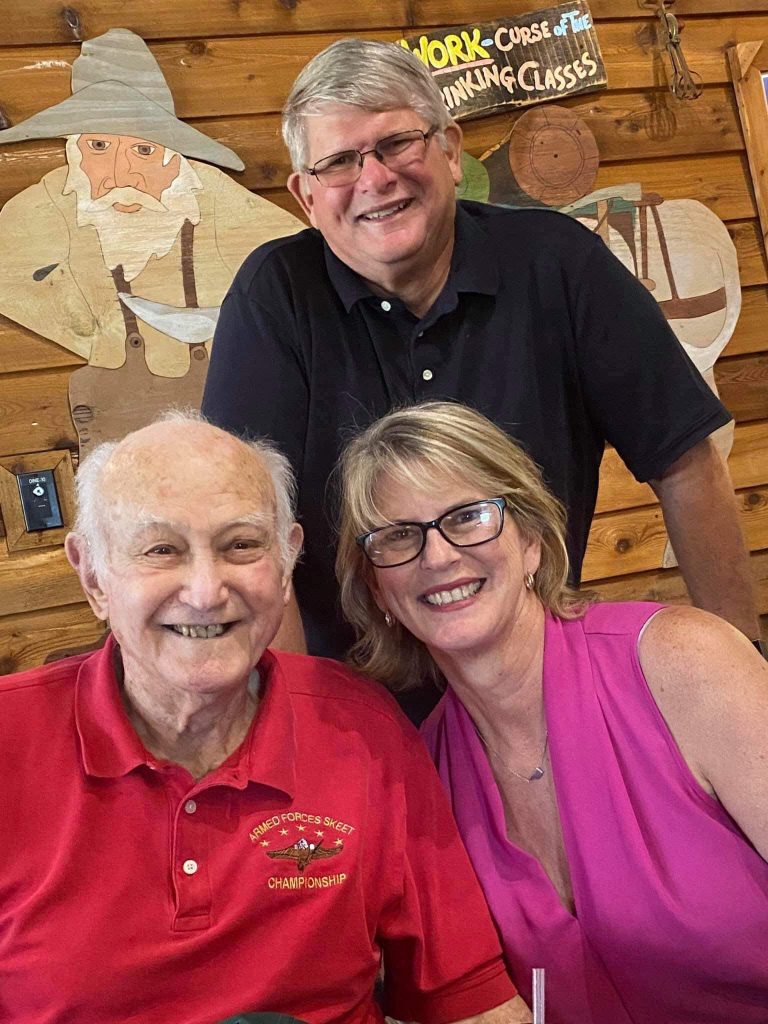 Members and staff of the NSSA are saddened to learn that Lieutenant Colonel Lawrence T. Drennan, Jr., U.S. Marine Corps (Ret), received his final marching orders on Tuesday, October 12, 2021, at the age of 94. He reported to the Heavenly Father and was reunited with the love of his life and wife of 72 years, Irma.
Larry, or LT, as he was affectionately known by many, was born July 12, 1927, in Stonewall, Oklahoma, to the late Lawrence T. Drennan and the late Grace Mary Moshier Drennan. Larry attended Stonewall High School, where he starred on the football, basketball, and baseball teams. Upon graduation in 1944, Larry enlisted in the Marines at age 17 with his parent's permission. LT went on to proudly serve his country as a Marine for almost 30 years, including service during World War II, the Korean War, and the Vietnam War. Larry received numerous medals and badges during his military career, to include the World War II Victory Medal, the China Service Medal, the Korean Service Medal, and the Medal for heroic actions during the Vietnam War. As a career Marine, Larry traveled around the world and lived with Irma on military bases in Virginia, North Carolina, South Carolina, California, and Oklahoma. Following his retirement from the Corps at Camp LeJeune, North Carolina, on June 30, 1973, Larry and Irma returned to Ada, Oklahoma. Larry dearly loved his home state of Oklahoma and never wanted to live anywhere else after retiring there. He was a long-time member of the Ada Lions Club, serving in a variety of roles including club president. He was a member of Ada's First United Methodist Church for over 40 years.
LT was also a legend in the world of competitive skeet shooting. After taking up the sport in the early 1950s, he won a host of local, state, and national championship titles while accumulating almost 325,000 registered targets. His abiding devotion to the sport was formally recognized with his induction into the Oklahoma State Skeet Shooting Association Hall of Fame in 1989, the National Skeet Shooting Association Hall of Fame in 1989, and the Armed Forces Skeet Association Hall of Fame in 1991.
Larry was predeceased by his parents in 1984 and his beloved wife in 2012; he was also preceded in death by a brother, Larry Wade Drennan and a sister-in-law, Shirley Drennan, in 2020. He is survived by his brother, LaRoye Drennan of Dallas, TX; a son, Michael Drennan (wife Julie and daughter Anna Piwonski) of Birchwood, TN; and a daughter, Kathryn Donovan (husband Larry) of Jones, OK; two grandchildren, Katelyn Cobb (Tony) and Matthew Donovan (Hallie); three great-grandchildren, Dean Donovan, Bennett Cobb and Lawson Donovan; and two nieces, Kathy Wildt (Patrick) and Sherry Drennan.
A funeral was held on October 18 in Ada with full military honors. Although LT donated to dozens of charities, his favorite charity was the St. Jude Children's Research Hospital, 501 St. Jude Place, Memphis, TN 38105.
Click on photo to enlarge, then scroll through gallery.